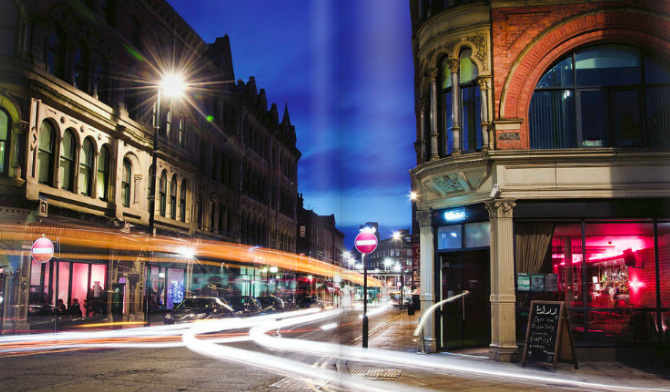 23 Aug

The ultimate guide to the Northern Quarter

Often described as Manchester's answer to Shoreditch, the Northern Quarter is jam-packed with independent shops, eateries, bars, clubs and more. Situated just north of the city, Manchester's most characteristic district and its red brick buildings are frequently used in film-sets.

A destination in its own right, the Northern Quarter has a laid-back vibe during the day before transforming into a busy scene once night falls. Not only is the area popular with locals but it also draws thousands of visitors from Greater Manchester each weekend. One thing's for sure, if you're looking for somewhere fresh, young and vibrant to call home, the Northern Quarter is a great choice.

The Northern Quarter

Boasting some of Manchester's best bars and traditional pubs, you can find the Northern Quarter on Oldham Street, next to both the Arndale Centre and Piccadilly Gardens, stretching up to Piccadilly Basin. Renowned for its variety of shops selling everything from rare finds to retro clothing, today the area is popular for a fantastic nightlife, trendy living quarters and an award-winning creative industry.

With new bars popping up every month and plenty of live music venues, the Northern Quarter is a popular choice for young professionals looking for somewhere to call home. Having previously been named as Britain's best neighbourhood, in recent years the area has witnessed a number of regeneration plans which have improved the standard of living for residents, resulting in a vibrant contemporary extension of the city centre while retaining its own unique character and charm.

What to expect

Popular with all ages, the Northern Quarter's streets are filled with stunning old buildings, modern street art, and incredible architecture. Creativity lives and breathes here and there's plenty of indoor markets full of independent traders, artists, and designers all selling their unique items. Famous for its street art, make sure you keep your eyes peeled for the sculptures of birds on walls on John Street, the illuminated 12 metre-tall Big Boys Toy on the top of the NCP car park, and other artistic graffiti.

With a number of creative companies choosing to do business here, the NQ is anything but corporate. As you'd expect, the shops here are independent too, as well as the bar and restaurant scene – many even argue that nightlife here is the best in the city.

Property in the Northern Quarter

A popular choice for creative types and media professionals, property in this area is generally converted space above bars, restaurants, and shops. There's also a selection of purpose-built apartments in new developments ensuring that the rental market is always buzzing. With the trend for city living seemingly booming and a number of TV professionals residing here, property in the Northern Quarter is expected to continue to experience positive growth.

Getting to the Northern Quarter

Manchester is compact which makes exploring the city centre very easy. Not only can you get around on foot but there's also a fantastic tram service.

If you are looking for a property in and around Manchester city centre, please don't hesitate to get in touch. Plus, remember to keep an eye out for next month's city spotlight.