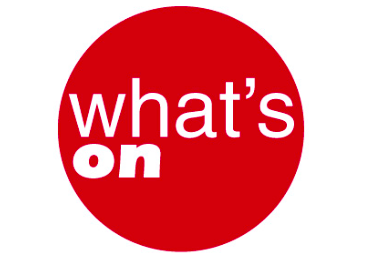 29 Aug

Upcoming events in Manchester that you need to know about

With life getting busier every week and new bars, restaurants and events opening every month, staying on top can be tricky. So, here's a round-up of hottest happenings in and around the city centre that you need to know about.

What? Bee in the City

Where? Throughout the city

When? Now until 23 September

Manchester City Council has joined forces with Wild in Art to bring the community together for a fantastic display of public art. Download the trail map and take part in this FREE family adventure. Look out for individually designed bees that celebrate various parts of Manchester, from its industrial heritage to its vibrant music scene.

What? Manchester Food and Drink Festival

Where? Various venues around the city

When? 27 September – 8 October

This annual food festival will be taking over Manchester's streets for the 21st time. An eating and drinking bonanza, foodies can expect pop-up stalls, never seen before products, chef demonstrations and of course lots of delicious tastings!

What? Manchester Literature Festival

Where? Various venues across the city

When? 5 – 21 October

Often described as city full of story, this festival allows you to experience Manchester's literary scene like no other. With panel discussions, hotly anticipated books and a range of industry experts available to answer your questions, this exciting event is one for the storytellers amongst us.

What? Manchester Art Fair

Where? Manchester Central, Windmill Street, Manchester, Manchester, M2 3GX

When? 12 – 14 October

The largest and most prestigious art fair in the North returns this October with more than 120 galleries and artists showing thousands of original artworks. Peruse unique paintings, search for rare finds and explore the history of art in Manchester city.

What? Manchester Folk Festival

Where? Various locations across the city

When? 18 – 21 October

The only festival dedicated to supporting and promoting new English folk and acoustic music is returning to Manchester. With a jam-packed schedule of singing workshops, intimate gigs, and large concerts, this year there are 15 venues involved, all within walking distance from one another.

What? Halloween in the city

Where? Manchester City Centre

When? 27 – 28 October

Celebrate Halloween in style with Manchester's spooktacular event. Look out for a series of terribly good events, devilish displays, and wicked shopping offers. With spooky street decorations, pumpkin lanterns and iconic city buildings turning a seasonal colour, for the ultimate scary night, it's got to be Manchester.

If you are looking for property in and around Manchester city centre, one of our experts will be happy to help.